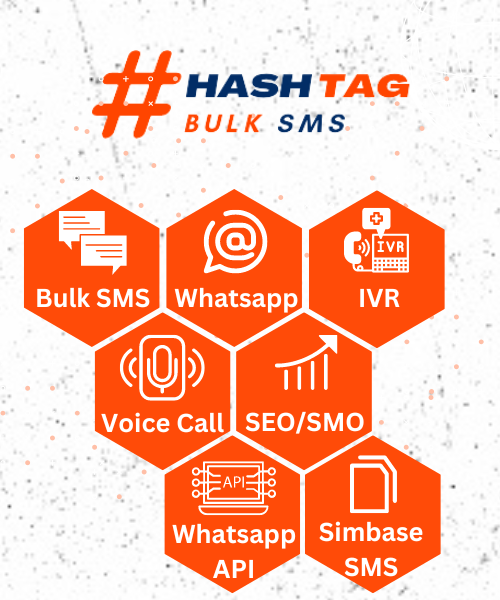 Industry Leader of
Bulk SMS Services India
Hashtag SMS is the Industry Leader in Bulk SMS Services in India. We are improving ourselves by using cutting-edge ideas and techniques. Looking for an ideal companion for the Bulk SMS Service means the choice of Hashtag SMS is great for ensuring a smooth business communication process.
Our SMS Gateway Advantages
Easy to Use Interface
100% Responsive Panel
Multi Language Support
URL Tracking System
Schedule SMS Option
Multiple Routes Option
Copy Paste Number
Auto Remove Duplicate No
Crystal Clear Delivery Report
Easy to Use Developer API
WHATSAPP NOW
Bulk SMS Price
What Do We Offer?
We are the industry leader among the best SMS service provider in India. Here is a glimpse of "what we offer our clients". Free Bulk SMS online is one of the major requirements of the companies, and they are looking for the best service provider for Bulk SMS.
Boost Business Growth and Visibility
Get in touch with us to boost business growth and visibility by selecting Hashtag SMS services in India.
Chat Now
+91-9354100473
Bulk SMS & Voice Call Service Provider in India
Lead generation is the most difficult task for companies nowadays, and to achieve this objective, they are working on new ideas and approaches. Hence, using Bulk SMS Services in India is worthy for the companies to communicate with businesses on a large scale. On the other hand, automated voice calls are possible with Bulk Voice Call Services in Delhi, India. These services ensure multiple calls at once.
Bulk Email Services in India are professional services through which you can send promotional emails to multiple email ids. Whatsapp API is useful as a modern communication source, and you can get this from the best Whatsapp API service provider in Delhi, India.
Why Choose Us?
Dedicated Support
Our expert teams are dedicated to helping our customers.
Premium Delivery
We send your sms through the most premium routes on offer.
Clear Regulations
We clear all necessary aspect to client befor buy.
Best Price
We provide result oriented sms service at best price guarantee.
What Our Client Says
I want to say only credible and trusted things about the company. They are passionate about serving their clients every time.
Anuj
My business needed to be getting the right direction in terms of customer engagement, and I chose the group SMS services by Hashtag SMS.
Monika
A serious note for the company's owner: Thanks for making our business communication streamlined.
Naman